Recently I came across a group of photos I took of an afternoon in September 2019. A time when it was safe for artists to hang out in each others' studios without thinking twice about it. A time before we knew what it meant to be safely distanced because of Covid.
Lori Reed's workspace is nestled in the second floor of her lovely home in a wooded part of my home town. I happened to be home for my high school reunion, so we made this meeting happen. I had not planned to ask if I could take these photos, but the feeling was so inviting, and she generously shared her technique of slicing her beautiful photos and putting them back together in painterly order, adding fragments of text, topographical maps, handmade papers, etc. I was fascinated.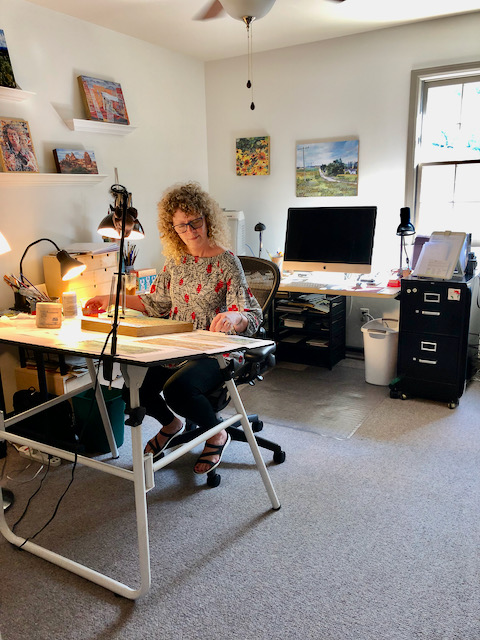 Her natural surroundings and travels influence her compositions. The quote on her website says, "With my mixed media work, I'm moving from a photographic documentation of something to a fluid impression or memory of a place that is timeless." Think about that…
Her site is worth investigating: LoriReedArt.com On the Links page, you can access an interview that will help you get to know Lori and appreciate her skill all the more.
Since that autumn, most of us have gotten used to zoom meetings, sharing ideas and images on laptop screens. We learned a new way, because we are resilient. We were forced to become more flexible. That's a positive.