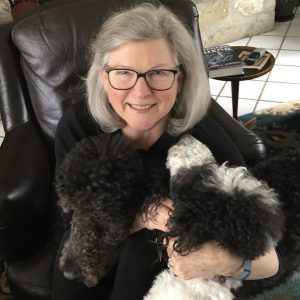 I'm a visual artist. I get ideas out of listening and observing a lot and also out of nowhere – they just pop in my mind. They seem important so I make art to express them. They manifest as landscapes or portraits or abstract designs or cartoons, whatever helps them see the light of day. These revelations are always symbolic of something meaningful, or at least fun. I'm pretty handy with a variety of art supplies (oil paint, acylic, watercolor, charcoal, ink, etc.) and use whatever it takes to get the job done.
Having returned to school after my children were grown allowed me the experience of bonding with artists half my age. I believe learning and working alongside my younger friends taught me to be more innovative in my approach to art making; it expanded my ability to adapt to ever-changing methods in technology and media. I earned a BFA degree from NIU in 1989, shortly before my 40th birthday and dove into creating and exhibiting one series after another, poring my heart out with gusto!
But 20 years of making art and running my own studio business took a toll on my energy. In 2010 I began meeting monthly with a small group of artists in the Whitewater, Wisconsin area. After having operated as a solo artist for so long, it was a relief to share the load physically, mentally and financially. We gave each other feedback and exhibited our artwork together. Getting together regularly over time regarding a passion we shared caused us to build trusted friendships. We learned a great deal from each other and continue to do so.
In 2014 I trained with the Alzheimers Association of Milwaukee to learn how to facilitate their "Memories in the Making" program. Since then I've enjoyed volunteering for local caregivers on Friday afternoons. It has been wonderful to witness how making visual art can help people with failing memories express so much when their words allude them. And it's fascinating to observe the "style" that each of these adults has maintained at their core. This work has encouraged me to be more experimental and inventive in my own creative problem solving.

BARBARA GRANT, 2020
Grantview@iCloud.com – I'd love to hear from you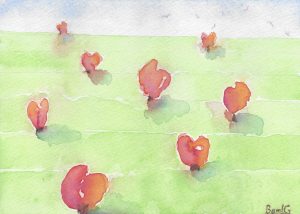 StraddleTheTurtle.com – to read my blog
GrantviewStudio.com – to see more artwork
SaveSaveSaveSave
SaveSave
SaveSave
SaveSave
SaveSave
SaveSave
SaveSave
SaveSaveSaveSave
SaveSave
SaveSave
SaveSave
SaveSave
SaveSave
SaveSave
SaveSave
SaveSave
SaveSave
SaveSave