I advertise that these newsletters are sent with the change of the seasons, but oops, we missed Spring! Along with a beautiful bouquet of 🌷🌷tulips🌷🌷 Bob gave me Covid for Mothers Day. He was back on his feet quicker than I thanks to a VA infusion, but all is well. I share this here in case anyone reading this wonders, like I did, about lingering symptoms. When I recently had my routine physical, my doctor assured me I was on track to getting back to normal; she told me that some bounce back in a couple weeks, but for others it can take up to six months. So if you're one of those, hang in there ~ ~ ~

Though I've been slowed down, I have continued to be productive in between naps on the couch:
I participated with The Oddball Artists in the Prairie Art Center exhibit in February. Since the pieces were quite small I was able to contribute 5 paintings and meet the deadline with a little help from my friends. One of the guys in our group is a framer; he gives us tiny frames he constructs from scraps that the frame shop can't use. Bruce creates perfectly square miters. I love that he wants to save this splendid framing from the dumpster. I'm able to pass this recycled savings on to my collectors!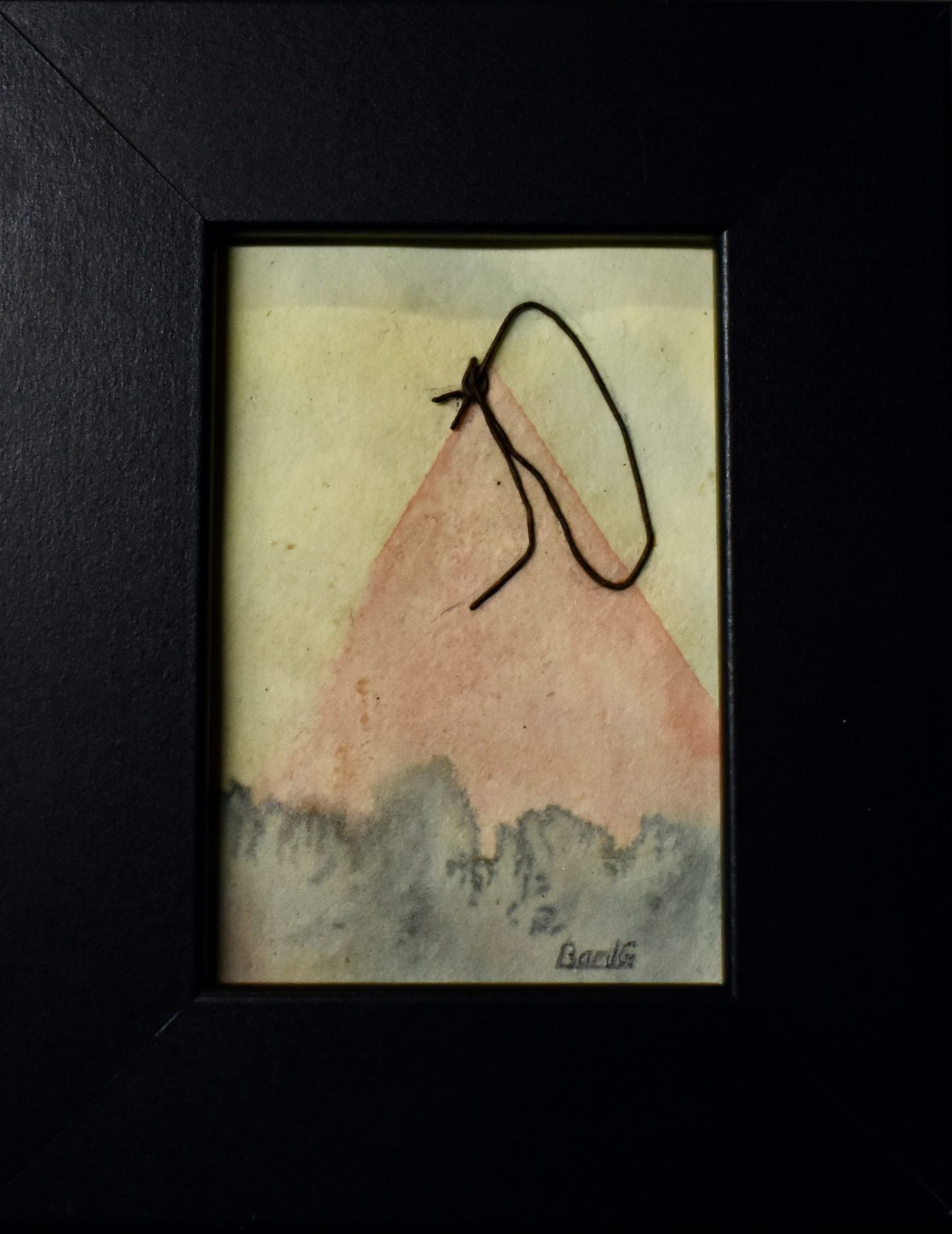 Above is one of my favorites included in the exhibit, entitled Rusty Lasso at His Peak. The inspiration came from a twisted piece of rusty wire found while on a walk with Roxy & Ringo. I'm showing the back side also, because it makes me smile. Thankfully a friend with a similar sense of humor noticed it for sale on my Etsy shop and scooped it up. It makes Karen laugh, and this brings me joy!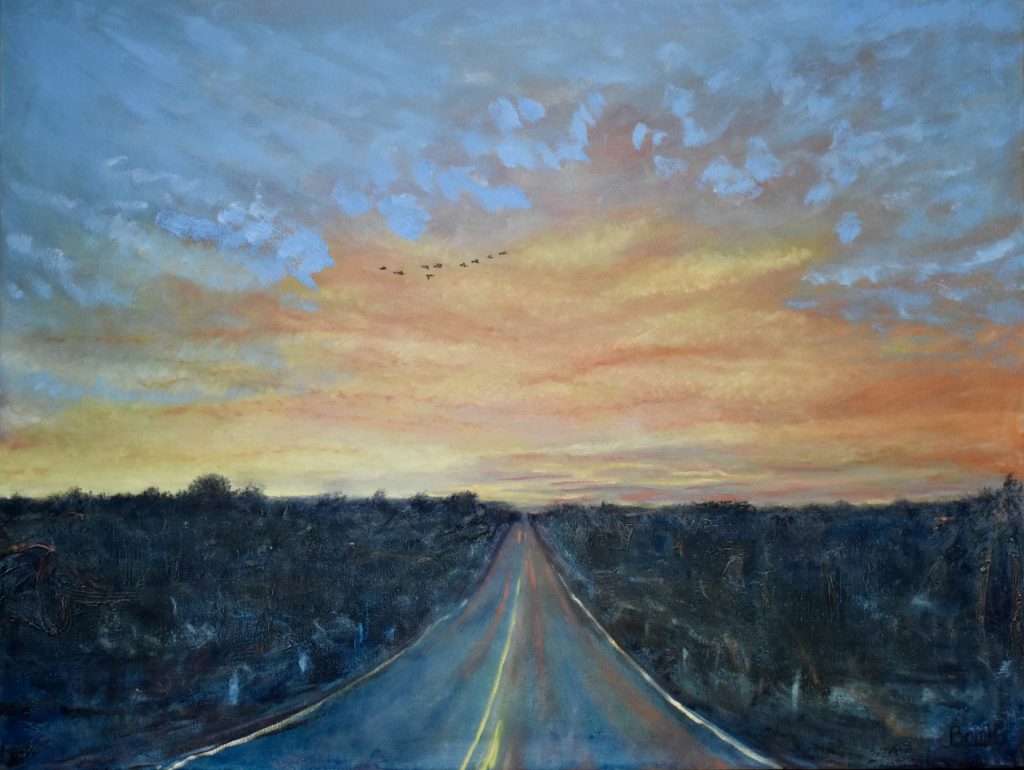 In contrast, I finished a larger oil painting (30″ x 40″) for a friend referencing a photo she took alongside a country road. The weird thing is she didn't realize till later that she'd caught some geese flying through the sky! Her boyfriend gave it the title, Last Resort Sunrise. Long story . . .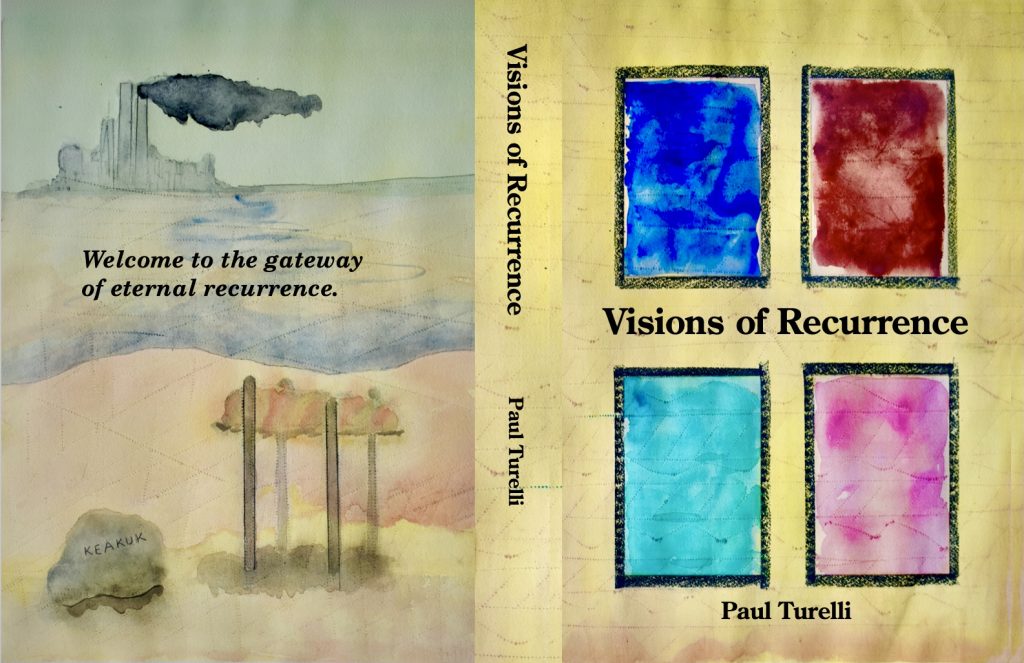 I created my fourth book cover for Colorado author & artist Paul Turelli. Visions of Recurrence became available this spring. Fourth in the Series of Dreams: Danny and Jennifer are now in mid-life and the story shifts to their teenage twins, Julian and Stephanie. James, their dear friend, mentor, shaman and spiritual guide, brings the family to a new realization about destiny and choice. The following link provides more information if you are interested in exploring this series: Visions of Recurrence on Amazon.com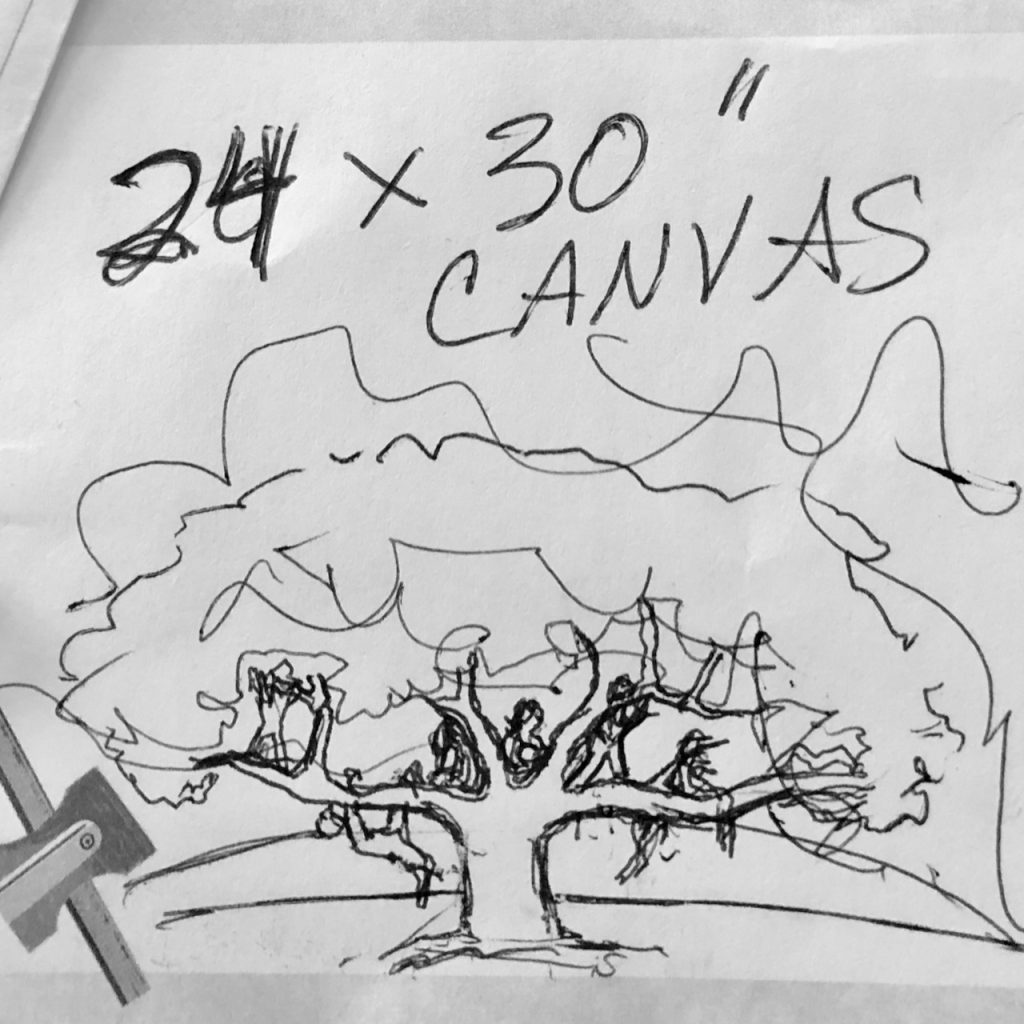 I've started some sketches for my next commission of "Kids Climbing a Tree." Here's one scribbled while waiting in the doctor's office. It's on my mind… Looking forward to this project! 🙃🍃🍎🍂😉🍁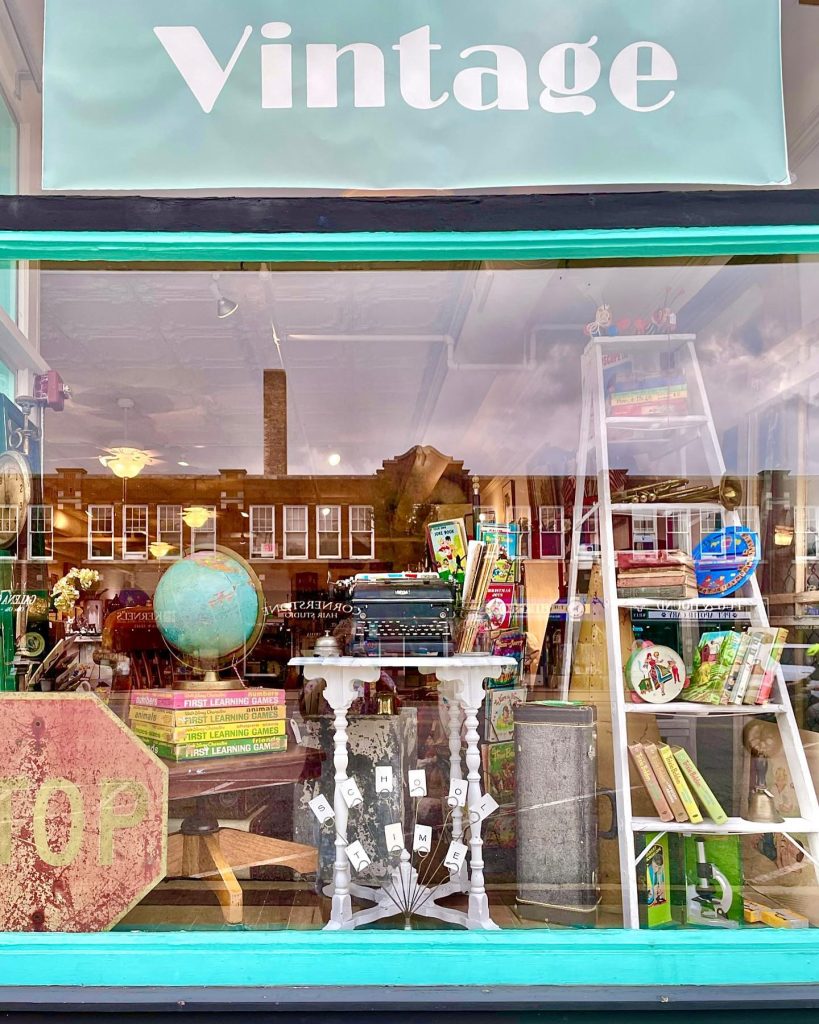 What is left of my "Money Bags" collection is currently on display in my daughter's awesome shop in Geneva, Illinois. Bell Jar Vintage is the perfect venue for these quilted artworks. Thank you, Dori! 🥰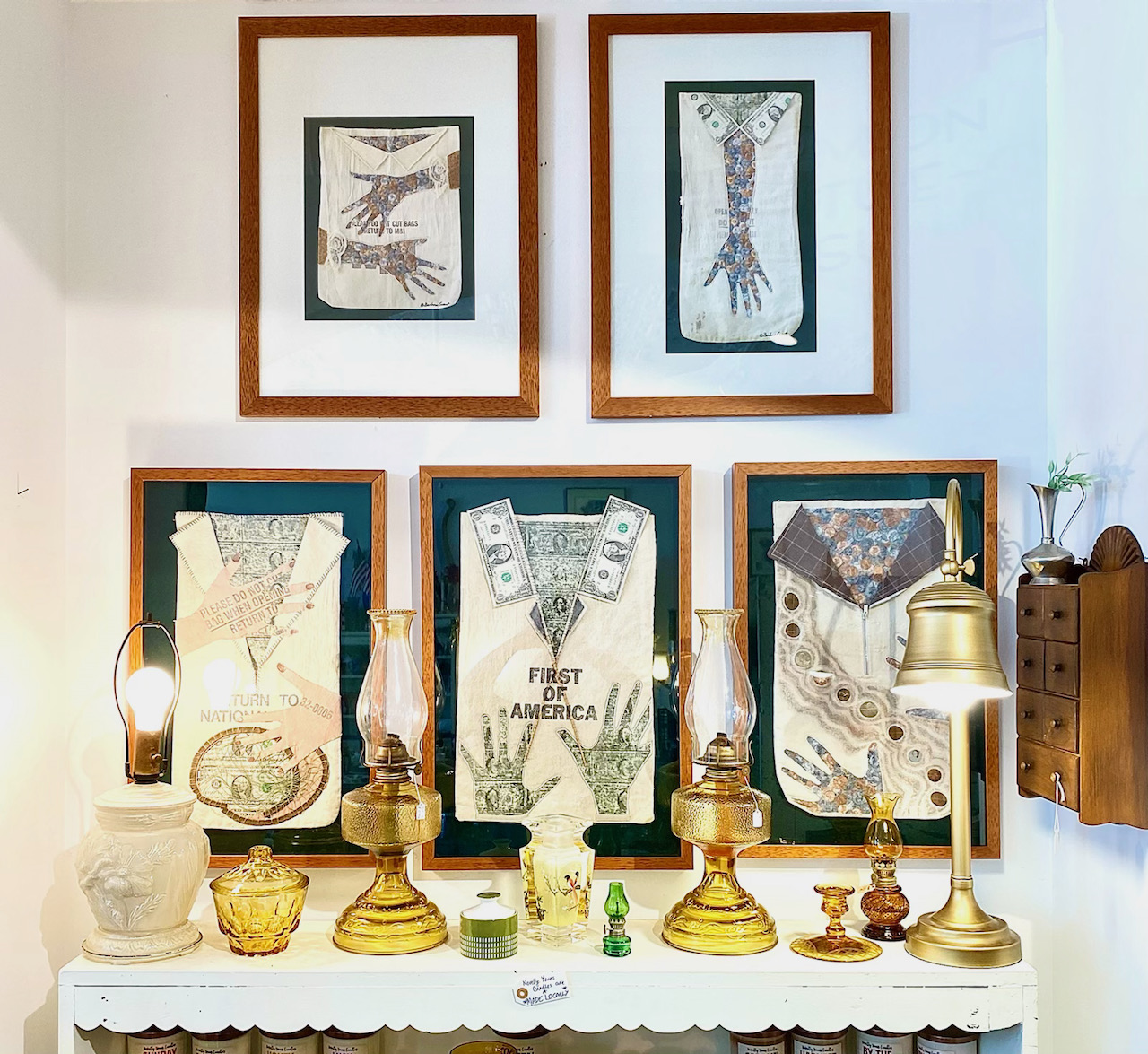 My previous blog is entitled: The Reverence of Poise. It's about slowing down, not rushing, having composure. I've illustrated it with a watercolor painting entitled "Pondering Tea". This little painting is part of a project I've been doing recently. I've been painting on watercolor card stock as warm-up exercises; a way to test various color combinations, designs and motifs. They have matching envelopes, so if they turn out nice, I send them to family and friends or add them to my Etsy shop. I've been having lots of fun with these simple, functional creations.
Maybe that is the key – they are functional; they can be a vehicle of communication, a way to connect with people. Using a pen or pencil, loosening up stiff knuckles to write a little note, looking up a street address, purchasing a stamp, and hey! a chance to use those free address labels that come in the mail 🙂 And on the other end…somebody gets a surprise in their mailbox!!! Calming down now to ponder another cup of tea: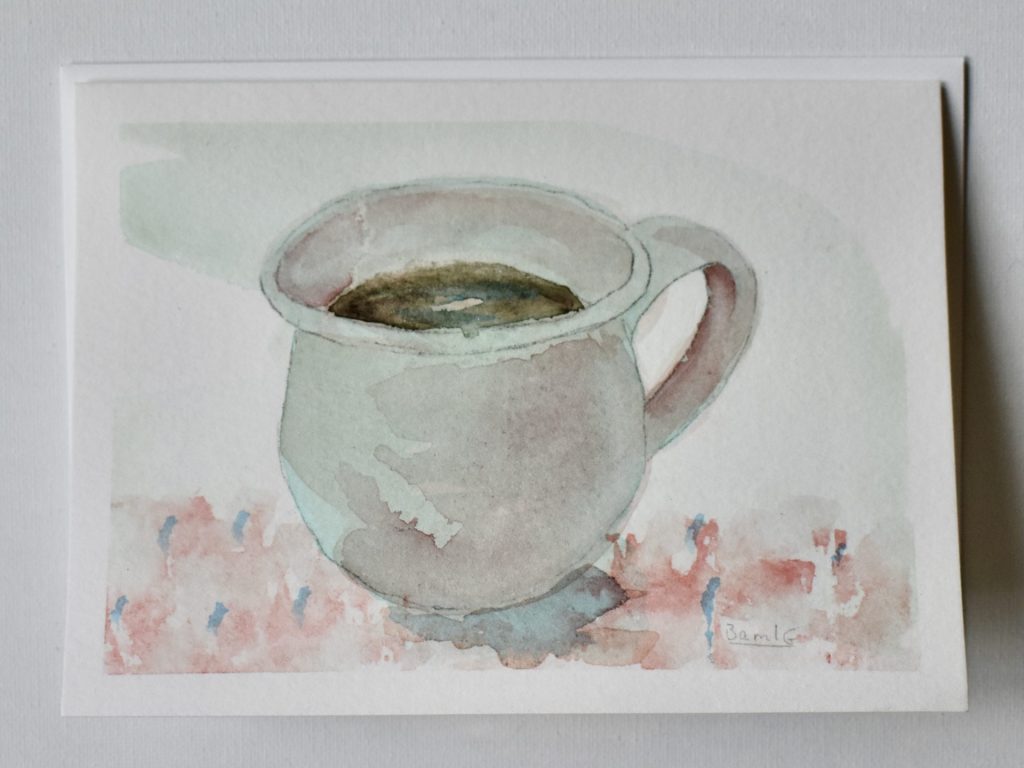 Bob continues to enjoy his contract photography work for a rural Insurance Company. He's often surprised at what he'll stumble upon, such as a traveling Farrier using her rasp file to trim this mare's hooves, or a deer head in a basketball hoop. Think Milwaukee bucks slogan FEAR THE DEER!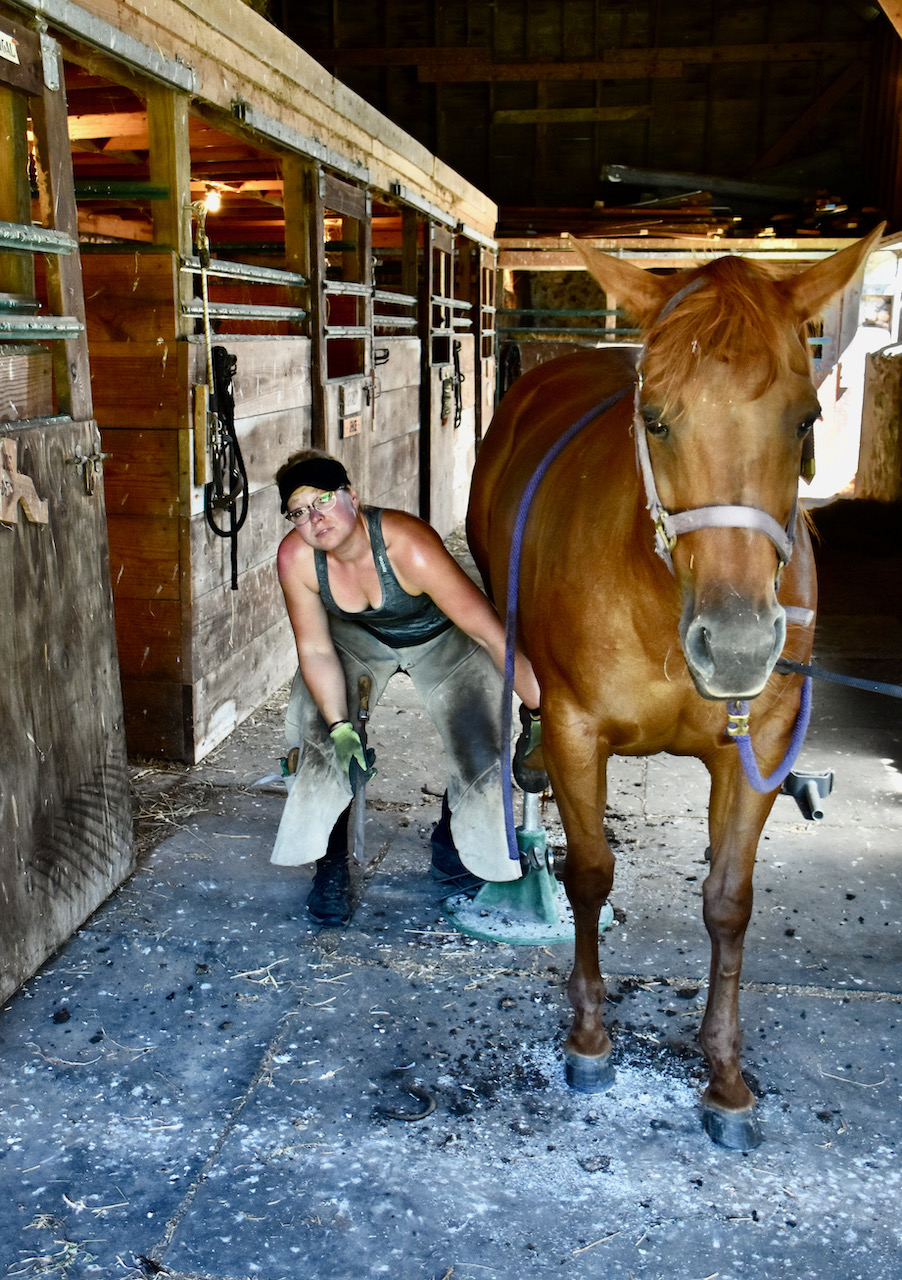 But equally interesting are these visitors that have graced our backyard this year. A neighborhood coyote. A deer apparently struck by a car. Right rear leg is broken. A friendly deer allowing Bob to approach within 4 feet of her.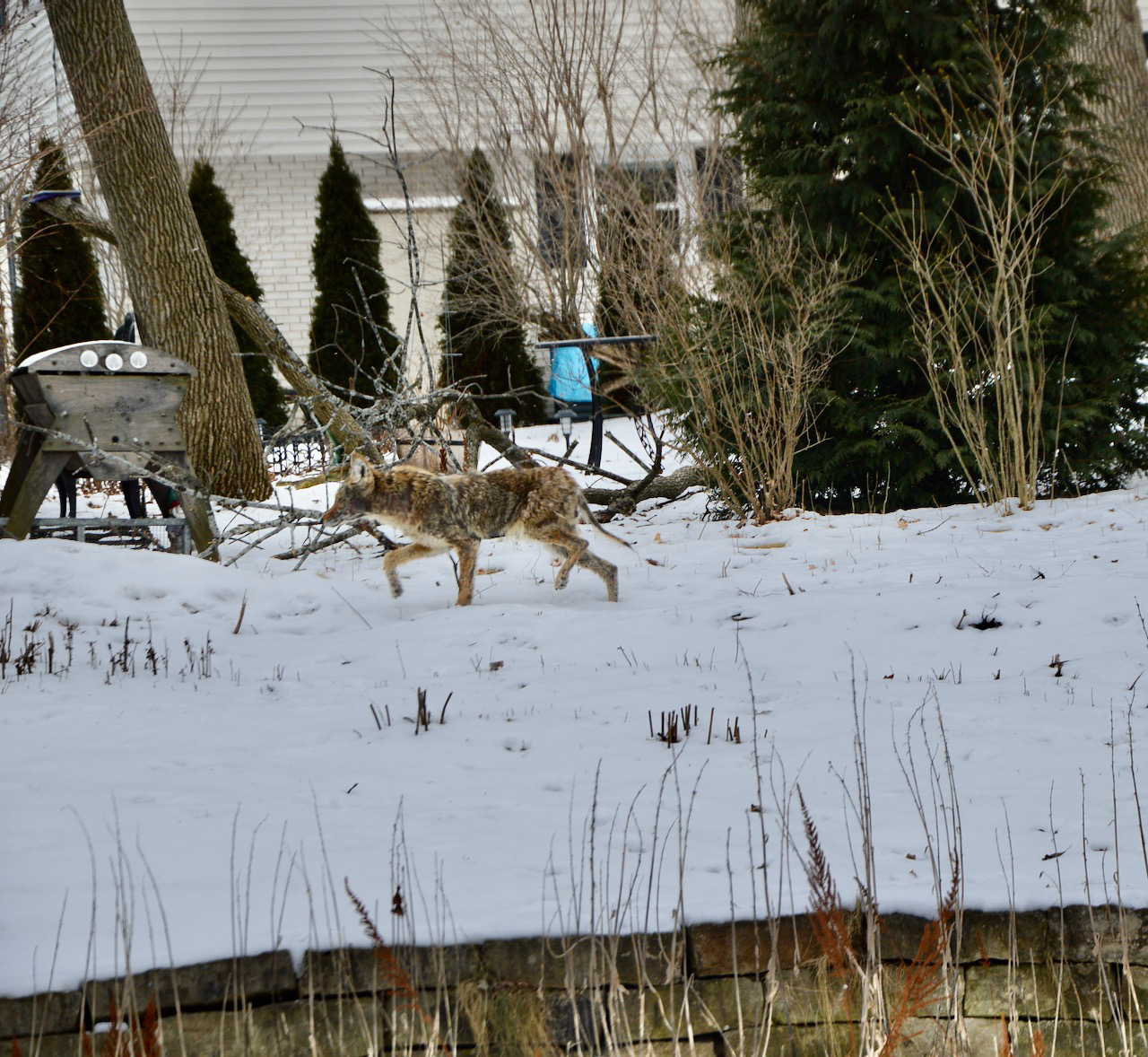 A Blue Heron we've nicknamed Alex has visited our yard on multiple days recently. He has taken a fancy to our lawn ornament, a blue heron that moves with breezes. Daring to come inside the fence, he may be getting frisky. Alex came back another day stalking for dinner. This is his "Catch-of-the-day.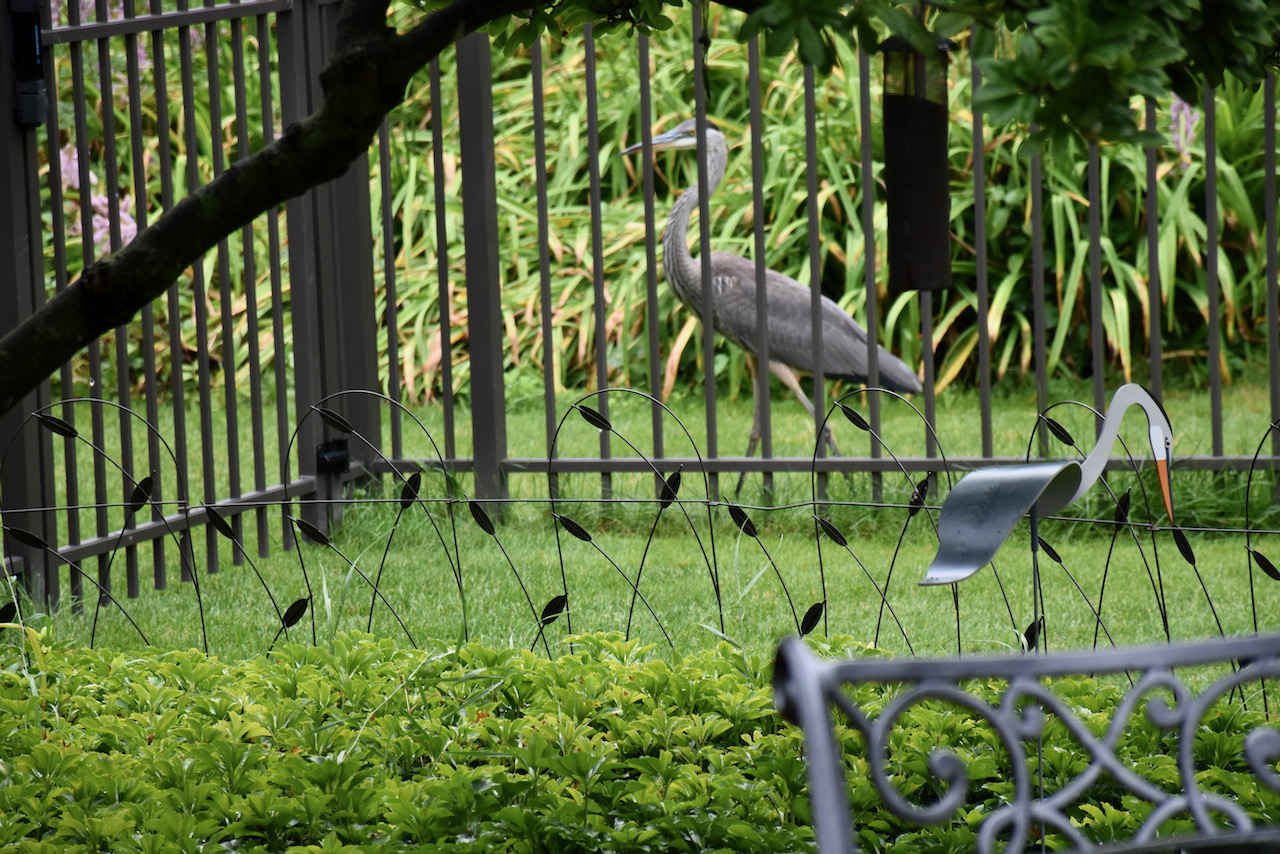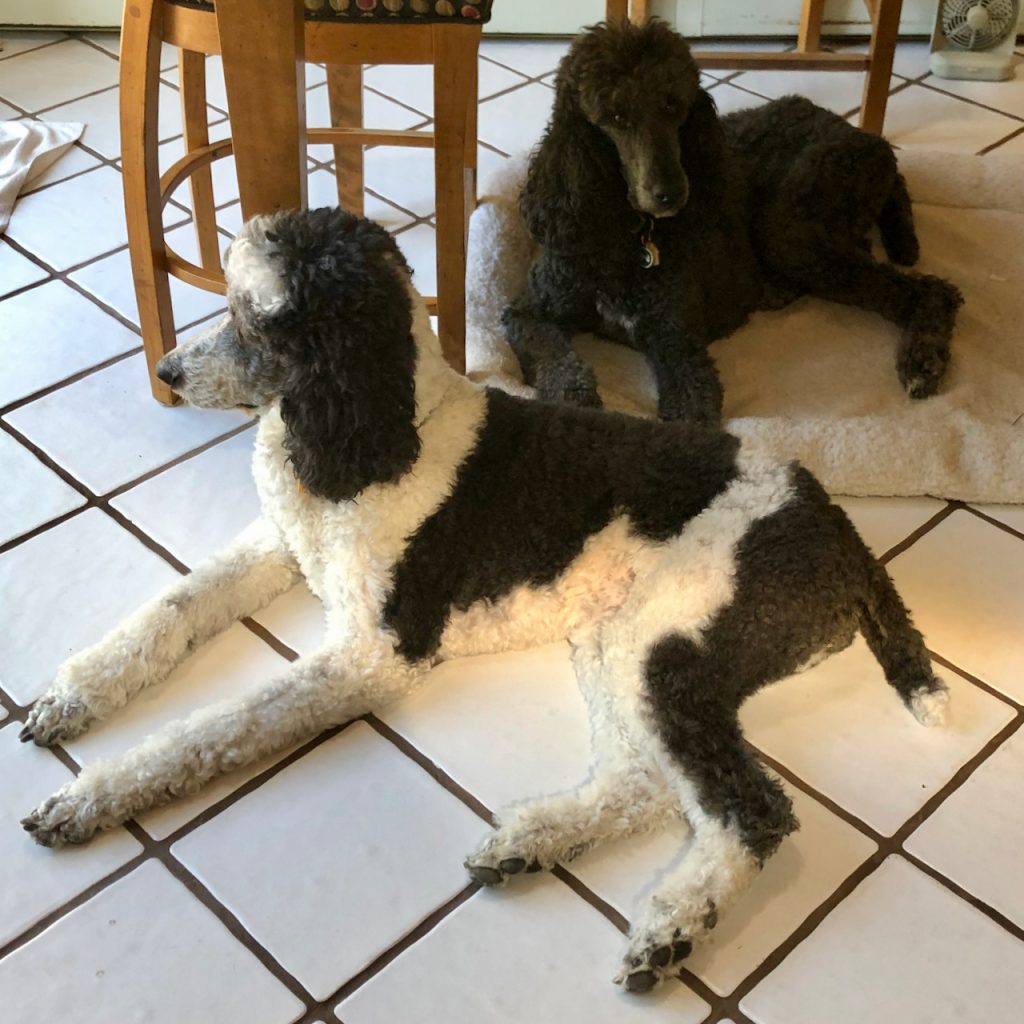 These creatures may appear to be lounging under the kitchen table, but let me assure you their senses are perked up and on the look-out for any wildlife lurking in the back yard!
Dang, they were both looking right at me but – you know… squirrel! 🙄
p.s. Can't end a newsletter without adding the most meaningful book I've read recently. That would be a gift from my friend Toodie. We are both big fans of The OverStory by Richard Powers. His latest novel is Bewilderment. So good.