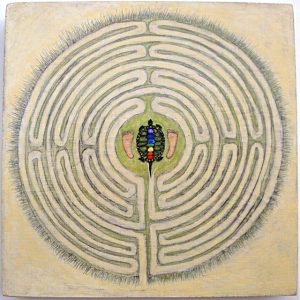 A labyrinth is an ancient symbol that relates to wholeness. It combines the imagery of the circle and spiral into a meandering but purposeful path. It represents a journey to our own center and back again out into the world. Labyrinths have long been used as meditation and prayer tools.
It was at least ten years ago that I was introduced to this concept; a temporary labyrinth was created for the community where I was living at the time.
Out of curiosity I stepped in and later wrote this poem about my experience.
Seeing no way in as I approach,
Panic pushes me to step over the line;
I enter from where I am.
Stocking feet step carefully, quietly
One in front of the other.
Inside the contours we stir around
Turning back, re-circling silently
Moving past one another.
After ten minutes of this endeavor
I pass "go" – the starting point
Marked by a box of tissues, and I think
Isn't that just like my life?
Timing, which is everything, keeps me
Too far ahead and so far behind.
Once again I begin this journey
Pretending to know how.
My lives pass before my eye and
Pound inside my inner ear,
Tracing imprints on layers of my chaos –
Uncoiling and clarifying all that was
And all that ever shall be – Oh,
The uncertainty of all those choices!
I think of my family then and now
And stop in my tracks.
Waiting for balance – then moving
Steadily again aiming for the rose.
In the center I exhale through a smile.
I can't think of anything I need right now.
Wanting to dance and stifling my giggles,
I re-track my steps and find my way out –
Not wanting to disturb this pensive
Prayerful path for others.
SaveSave
SaveSave
SaveSave
SaveSave
SaveSave
SaveSave
SaveSave
SaveSave
SaveSave
SaveSave
SaveSave
SaveSave
SaveSave
SaveSave
SaveSave
SaveSave
SaveSave
SaveSave
SaveSave
SaveSave
SaveSave
SaveSave
SaveSave
SaveSave